Innovation
Innovation is an important component of HI's 2016 – 2025 strategy. For the first time the organisation has equipped itself with a long-term vision and roadmap with the aim of scaling up its innovation capacity to support its beneficiaries. 3D prostheses, telerehabilitation, support for drone demining practices etc. there are a wealth of possibilities.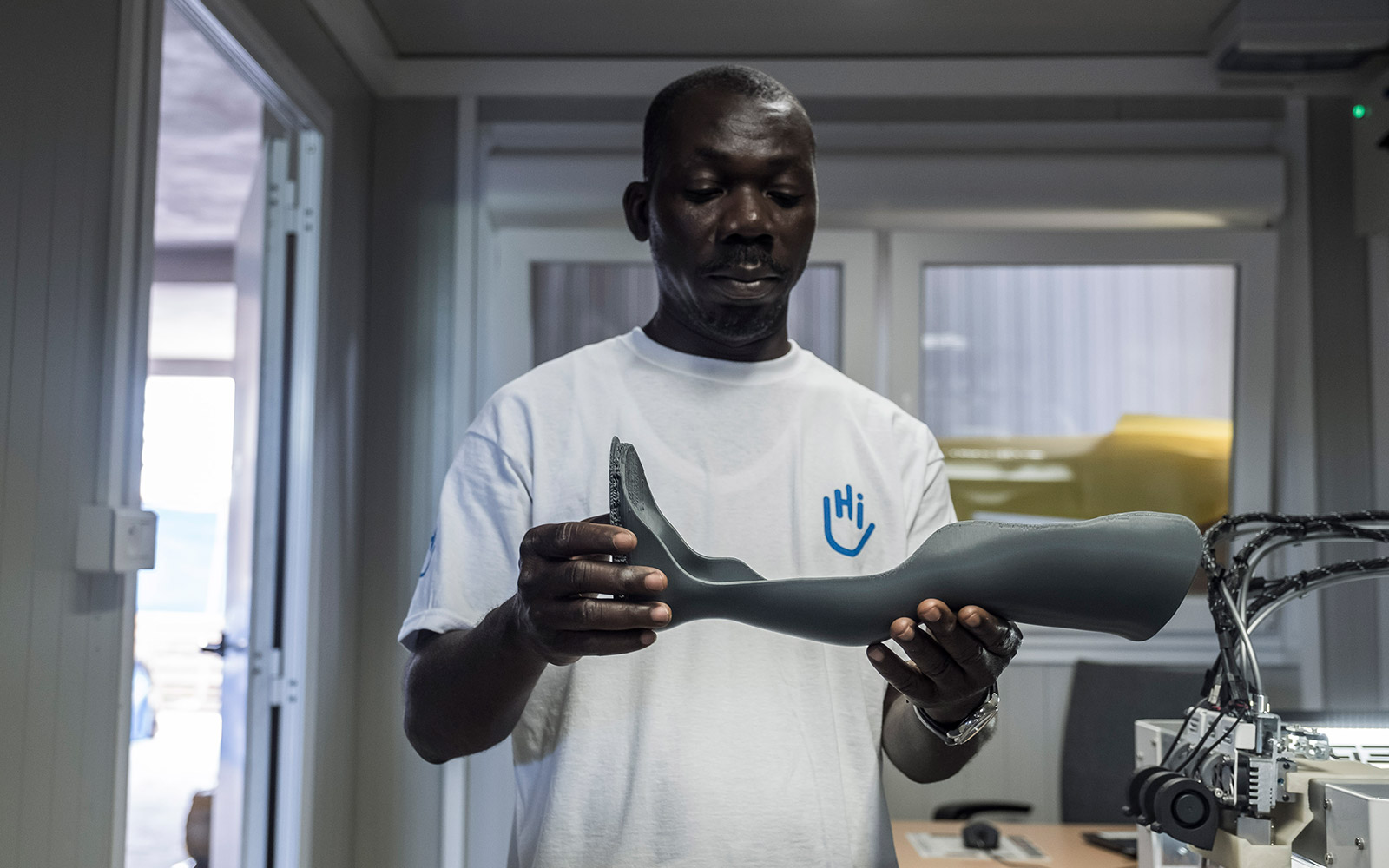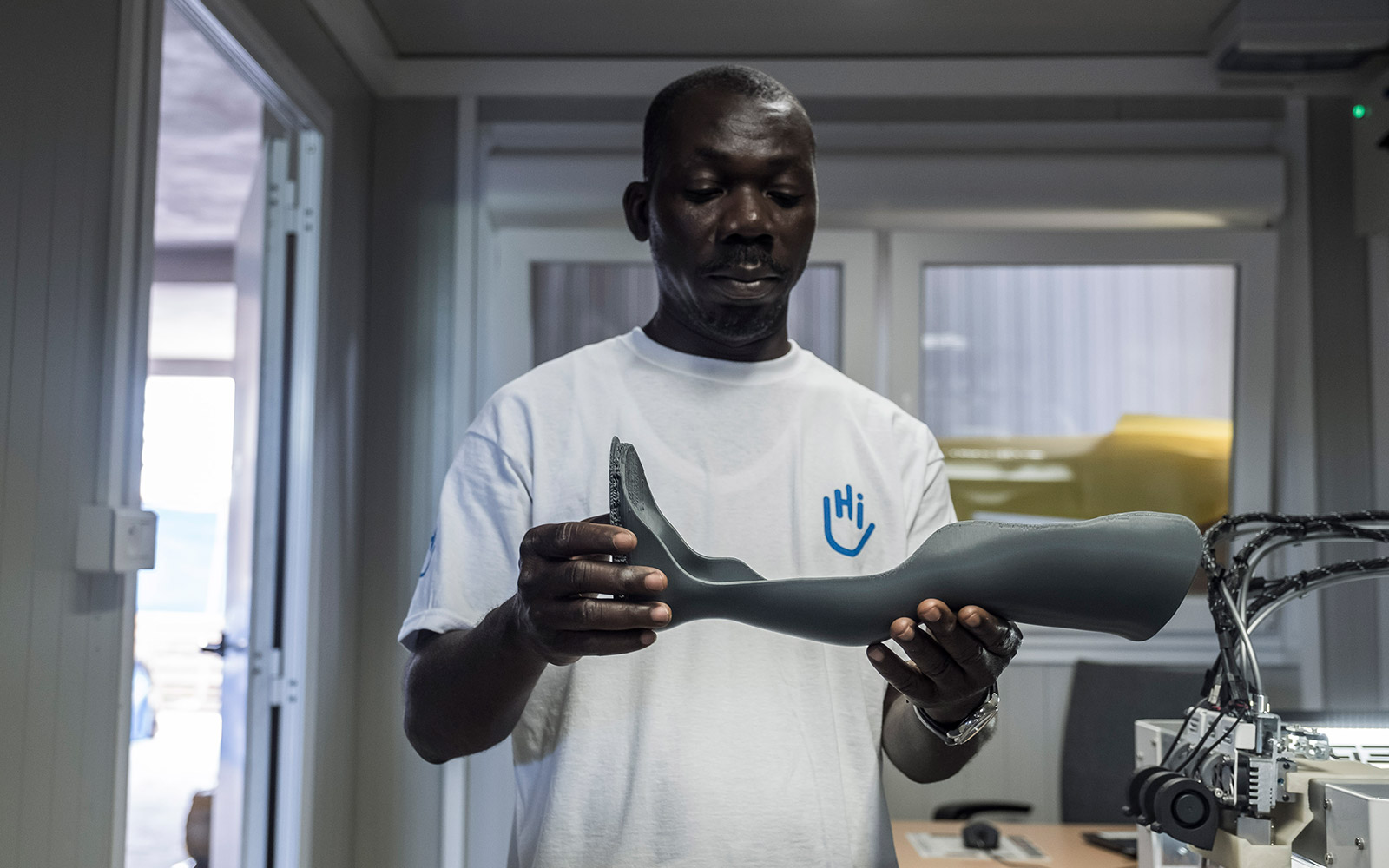 © X. Olleros / HI
Definition
How do we differentiate between innovative and conventional programming?
Humanitarian innovation is an iterative process focused on problem-solving not on existing technological solutions. It must be inclusive and take into account all possible ways of resolving an issue in hand. It must not be solely based on technological innovation, but must also take social interactions into consideration.
This iterative process identifies, adjusts and disseminates ideas to strengthen humanitarian work :
Clearly identify the problems we face.
Share our ideas, identify new technologies or approaches.
Reproduce ideas which offer proven value-added.
The conditions for successful innovation
HI has identified 10 key success factors for innovation projects to support its approach:
• Think "problem to solve" not solutions
• Focus on the impact, the expected "progress"
• Use layman's terms: innovation is not restricted to specialists
• Remain open to opportunities and experience from other sectors
• Accept that mistakes are a way of making progress, accept the need to get things wrong
• An iterative approach with rapid testing and prototype phases
• Involve the beneficiaries and programme teams
• Do not expect rapid development
• Stay aligned with our values
• Organise and prioritise the ideas to work on
The challenges faced
In 2019, three major projects form the core of the innovation approach implemented by HI:
• The use of drones to capture new sources of data (images in the visible spectrum or other frequencies, ground penetrating radar signal) to facilitate the demining process.
• Additive technologies and telerehabilitation for functional rehabilitation.
• Ownership of the change and technology by the teams and our partners: ensure the prototypes which work are also adapted to our different intervention contexts and can be adopted by all our teams and partners.

These three projects illustrate the four main challenges identified by the organisation, for which innovation can provide tangible solutions.
More rapidly and accurately understand our intervention contexts, in particular in emergency settings
In order to increase the efficiency of its humanitarian response, HI needs a highly accurate picture of the intervention context when an emergency arises. The organisation needs to identify the worst-affected zones and the populations hardest hit by the crisis or disaster. Today, the teams in the field have this information but it takes time to obtain. Innovation can provide solutions to make this data more accurate and available more quickly.
Another example, as part of the process for releasing land contaminated by mines and other explosive remnants of war back to populations, we are developing our capacity to produce and analyse aerial images: producing them using drones and having qualified people analyse them.
In collaboration with specialist firms, HI is experimenting the use of drones to detect the presence of mines. This has been being trialed in the north of Chad since February 2019.
Objective : more accurately target the intervention zones for the deminers and reduce the duration of operations.
If these trials are successful, this will revolutionise the demining sector.
Dematerialising our expertise to get closer to communities
It is an established fact in the countries where we work that there is insufficient expertise locally to reach all communities and cover all the needs identified.
For example, in remote areas or conflict zones, rehabilitation specialists are rare, the equipment required is expensive, and access to services is difficult. We are therefore working to develop and provide these resources within communities using additive technologies, in this case, 3D printing of prostheses and telerehabilitation.
Making our approaches more inclusive
The challenge is to identify innovative solutions to improve the inclusion of people with disabilities and vulnerable groups in humanitarian responses. Several avenues are currently being explored :
• HI has submitted a proposal to the NGO IDEO.org call for projects with the aim of filling the knowledge gap in low-income countries in terms of making adjustments to workstations. HI decided to pool its resources and attempt to create the first digital toolbox for implementing reasonsable adjustments in low and middle-income countries. We hope that this idea will help employers understand that very simple adjustments can make a difference and encourage them to work with people with disabilities across the world. In Afghanistan, HI has created low-cost prosthetic arms attached to agricultural tools. The toolkit shares this adaptation with other farmers, INGOs and employers in developing countries, so that farmers with similar disabilities can obtain adapted prostheses and continue working.
• Another project involves listing all the inclusive health centres in our intervention countries and producing a directory with fully up-to-date contact details, accessible to all.
Making our approaches more efficient
Our fourth area of exploration involves searching for innovative solutions to make our responses more efficient. With this in mind, we are testing mobile data collection for our activities and new ways of monitoring and adjusting these.
For more information about our projects and our approach to innovation
Pierre GALLIEN
Director of Innovation, Impact and Information
Photo: © J. Fardoulis / HI