Atlas Logistique
Logistics solutions for impactful humanitarian aid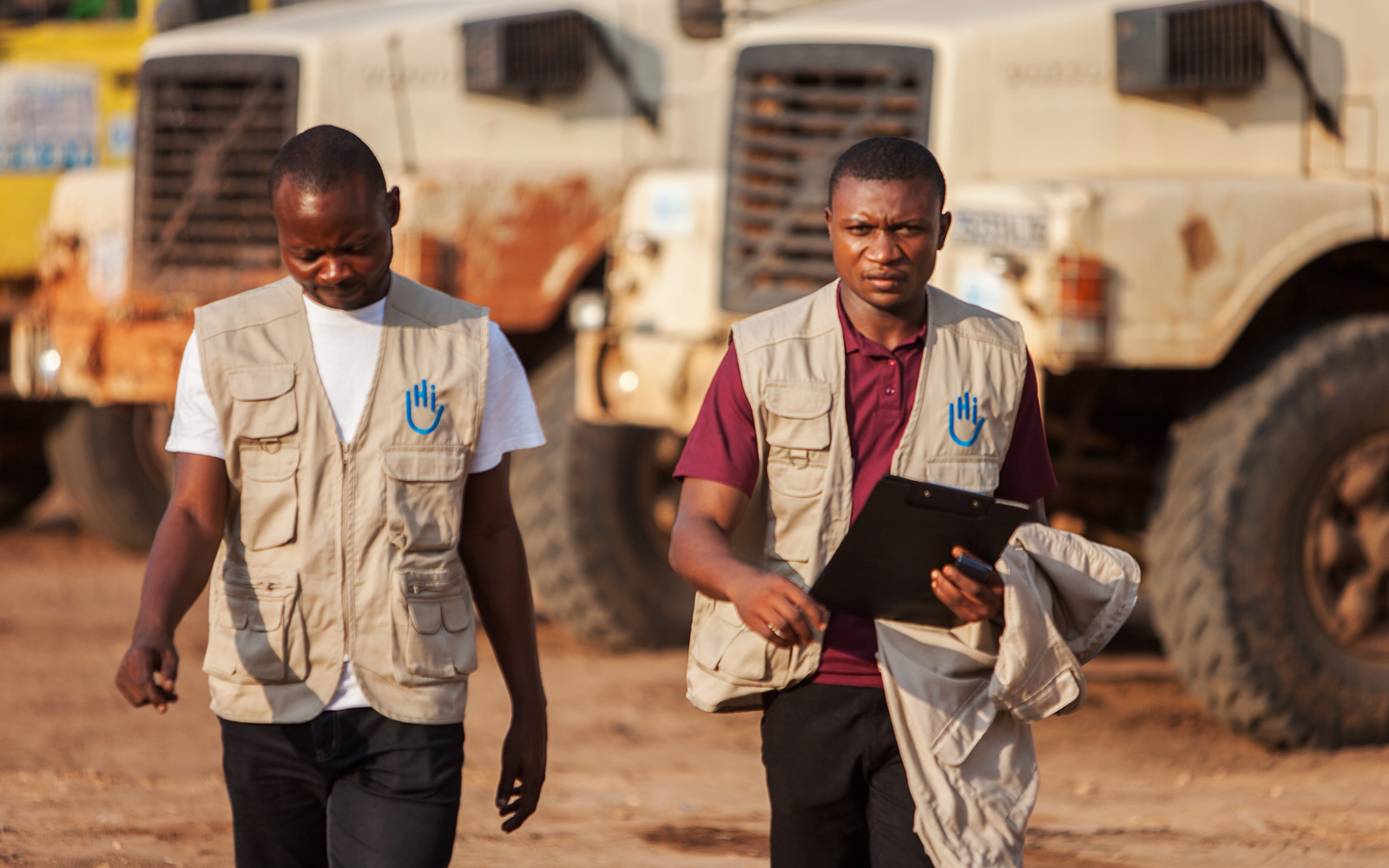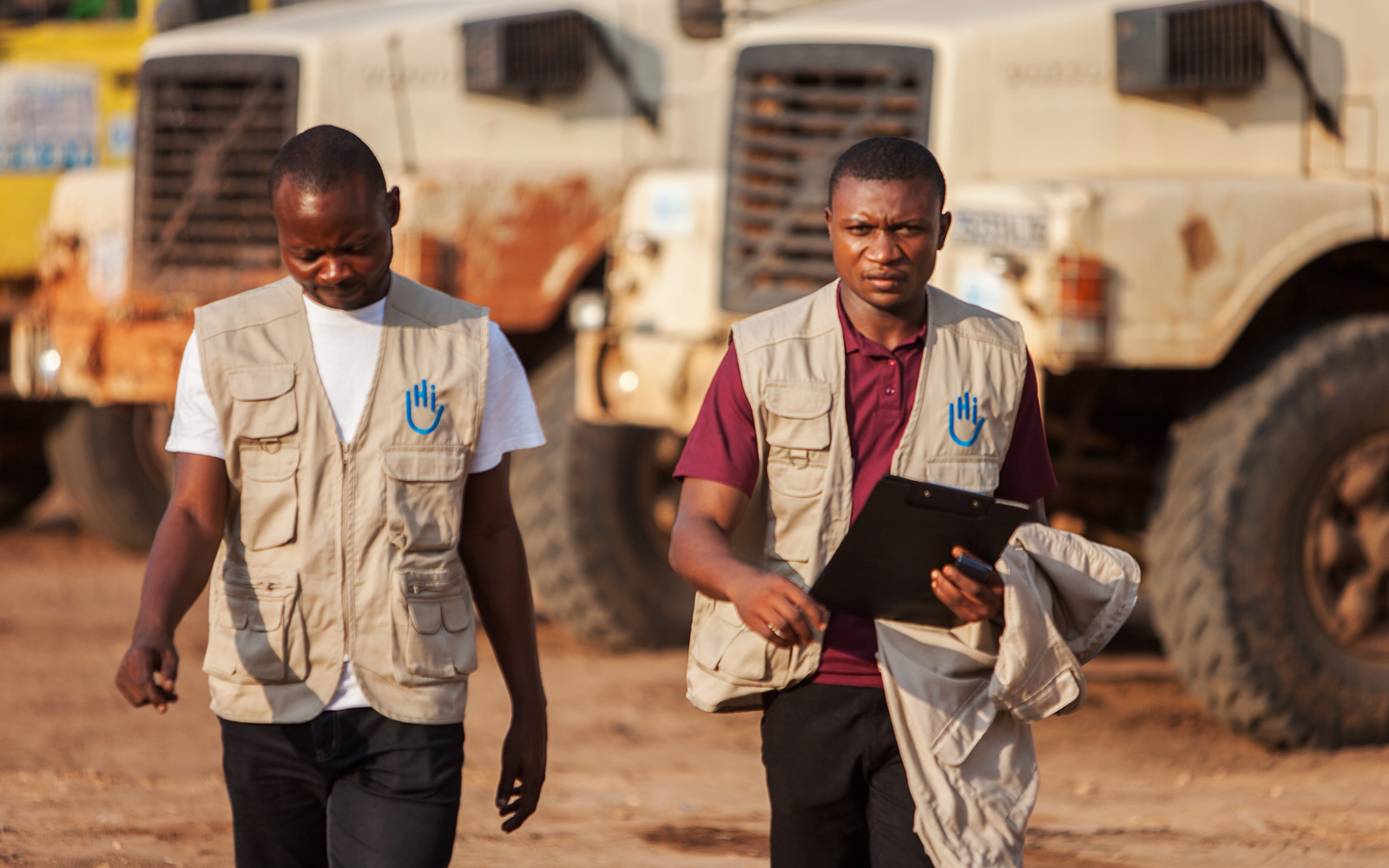 © B. Blondel / HI
We believe in the equitable delivery of aid to all vulnerable populations, and we work towards this every day by providing common logistics solutions for other humanitarian actors.
Ensuring aid reaches the most vulnerable
Atlas Logistique is one of HI's operational units that specializes in logistics services and supply chain management during humanitarian crises. Our service sectors include common transportation and storage, civil engineering, mechanic workshops, and advisory support services.
Challenging logistics conditions and poor infrastructure can limit access to aid for already vulnerable and isolated communities. Addressing these challenges alone or without the necessary technical expertise can divert time and resources from the overall response. Because of these challenges, isolated communities are often excluded from aid or are the last to receive it. As a part of the HI family, Atlas Logistique believes in the inclusive and equitable distribution of humanitarian aid for all vulnerable populations, and works towards this every day, through innovative and strategic logistics solutions that help actors go further, faster.
Atlas Logistique is committed to maximizing the impact of aid and ensuring its efficient and effective delivery. For almost 30 years we have been "helping you help others" – opening communications channels and supporting other humanitarian actors so aid reaches those who need it most.
The Atlas Logistique operational unit includes five HQ-based technical experts. We have two flying staff and 75 trained experts currently deployed or ready to deploy within 48 hours of an emergency to assess logistics needs and launch projects. We have the technical and operational capacity to open two additional projects per year.
Atlas Logistique enhances the mobility of humanitarian actors and affected populations. We open communications channels and ensure aid reaches all communities, including the hardest to reach, quickly and safely.
Our common logistics approach supports the efficient use of aid resources. We work with local actors to carry out our logistics solutions and provide them with capacity-building services during and prior to the response to better address emergency needs and help strengthen their economic activity. Our localization approach promotes local economic growth and acceptance, and enhances the resilience of the logistics environment.
As a humanitarian actor, we adhere to the humanitarian principles and promote solidarity and coordination among local and international humanitarian actors.
Our Services
Atlas Logistique specializes in the following sectors
Common transportation and storage platforms
We work with local actors to provide in-country transportation and storage for organizations responding to a crisis. This includes coordination of central purchasing services. As part of our platforms, we also provide kitting services, and information-sharing on operational security for major communications channels. In development settings we help structure transportation sectors to open up and reinforce transportation to and from isolated markets.
From rubble clearance to the rehabilitation of roads, bridges, airway and ferries, we carry out light civil engineering activities to address physical access issues that may affect aid delivery. We also monitor logistics vulnerabilities in the communications channels connecting isolated communities.
The absence of vehicle maintenance services and spare parts can be a major barrier to the mobility of aid actors and the provision of aid. To ensure the optimal functioning of humanitarian vehicles, we operate mechanic workshops. We recruit and train local mechanics to reinforce existing economic systems and the commercial autonomy of affected areas.
Atlas Logistique provides technical expertise and support to States, local authorities, humanitarian actors, and local economic actors. This includes logistics analysis, the monitoring of logistics vulnerabilities, capacity building, and premises management of search-and-resource bases, equipment and vehicles for UNDAC and relief actors.
We can provide any of our services independently or as part of a package, according to the context and needs, and we intervene in both acute and stabilized crisis contexts, as well as in reconstruction and development phases.
According to a satisfaction survey conducted by the Logistics Cluster following our humanitarian response in Democratic Republic of the Congo in 2017:
of beneficiaries
were satisfied with the service coordination
72 HEURES
notre temps de réponse
opérationnelle
of beneficiaries
were satisfied with the services received
Every year, on average, Atlas Logistique coordinates with 40 partners. These include: ACTED, Solidarités International, Oxfam, WFP, IFRC, PUI, UNICEF, International Medical Corps, Médecins du Monde, Caritas, COOPI, MSF, NRC, UNFPA, FAO, World Vision, Medair.
Our donors include OFDA, the French Foreign Ministry's Crisis and Support Center (CDCS), DFID, the Luxembourg Ministry of Foreign Affairs, CHF, the Swiss Agency for Development and Cooperation (SDC) and ECHO.
«In the difficult context in Central African Republic, where organising any activity rapidly is extremely complicated, the work of actors such as Atlas Logistique, specialised in pooled transport and logistics solutions, is vital as it allows NGOs to focus on their core activities and to provide vulnerable people with the assistance they require as quickly as possible.»
Grégoire Rivière, Rapid Response Manager, ACTED (Bambari - Central African Republic)
For more information on our expertise Atlas Logistique
Magdalena SZYNKOWSKA
Business Development Manager
Photos: © Philippa Poussereau/HI - © A. Surprenant/Collectif Item/HI